"What's Omaha Beach?"
The twentysomething looked at me expectantly. I frequently tell people that not every persuasion priority should be as difficult as taking Omaha Beach. I've said it thousands of times. But this was a first, as I realized I had crossed into The Twilight Zone. (Wait, he wouldn't know that reference, either!)
One generation always seems to mock the others. Matures pick on Boomers. Boomers make fun of Xers, and everyone snipes at Millennials. It's like living in Wisconsin and making fun of people from Illinois.
I thought of this recently when Millennials decided to fight back on social media with a two-word response: "OK, Boomer." I love the concision and ambiguity of the argument.
We are all shaped by our human tendencies and the environment in which we developed. If you want to hear yes more often across generational lines, instead of casting aspersions, try to understand where the other person is coming from. Here are some decision-making triggers which may drive members of each generation to act: 
Matures (1909-1945; think Betty White) : It's the right thing to do.
Boomers (1946-1964; think Jerry Seinfeld): It feels good. 
Xers (1965-1981; think Jennifer Aniston): You'll get ahead if you do it.
Millennials (1982-2003; think Justin Bieber): It's just smart to do. 
Gen Z (2003-Current; think Avani Gregg. Don't know her? She's a TikTok Star. Don't know TikTok? You've got work to do!): Will it help me be an influencer?
Nostalgia Is Key
If you want to really stir emotion in your target, nostalgia is key. Just look at any of the social media platforms out there. BuzzFeed's Jonah Peretti acknowledges that a big driver of anything viral is nostalgia. And often the most powerful nostalgia triggers are those events from our developmental years when we are between 12 and 18 years old.
The people who work at one Harley-Davidson dealership I've visited casually ask customers during their purchase experience for the name of their favorite song in high school. When the customer takes delivery of their motorcycle, guess what song is booming through the sound system? It creates strong, positive feelings about the experience and improves customer satisfaction scores.
Here is a handy reference table to help you acquire generational expertise fast and enable you to create powerful generationally relevant references.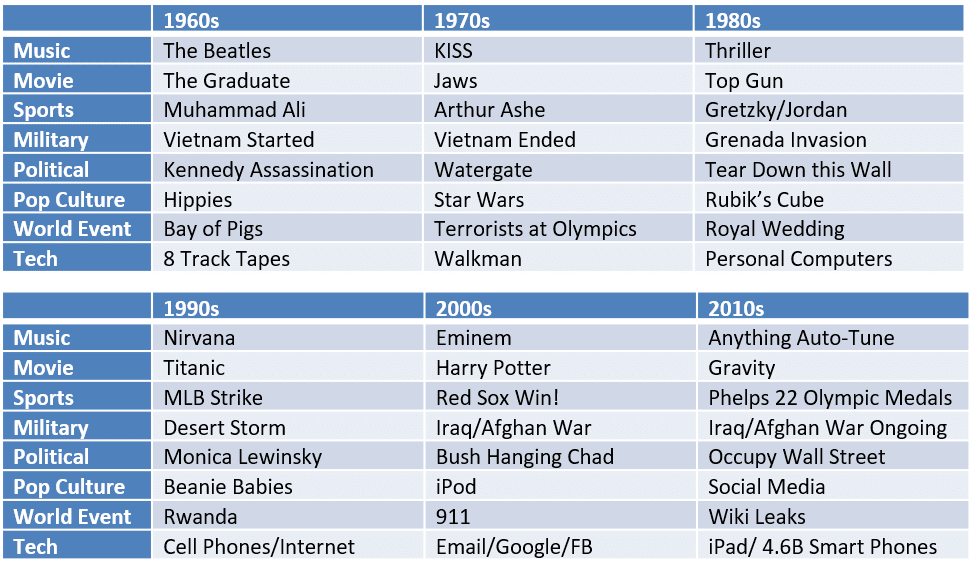 When Did You Graduate?
You can learn the age of your target by asking where and when he or she went to high school. (I always seem able to work that into just about any conversation.) Tuck that info away for a future generationally appropriate reference. Here are some examples:
Class of 1970s: "Man, that idea is going to be like the Sony Walkman of your industry."
Class of 1980s: "This project is going to make you look like Tom Cruise in Top Gun."
Class of 1990s: "This idea could be bigger than Nirvana."  
Class of 2000s: "Keep the new product under wraps; we don't to be part of a WikiLeaks story."
Class of 2010s: "This could be bigger than the ice bucket challenge!"
But at the end of the day, it's the individual that matters. It's not a generational cohort that is agreeing to take on a project, stay late to meet a deadline or provide that crucial piece of data. It's a person.
Eschew generational stereotypes, find out about the person and you'll be well positioned to hear yes. And never assume the other person's frame of reference or limitations.
Bridging the Generational Gap
Several years ago while visiting good friends, their twin boys — who were about 10 years old at the time — asked me if I like music. "Absolutely," I replied.
"Do you know a song called 'Slow Ride,' by a band called Foghat?"
"I know 'Slow Ride' by Foghat," I replied suspiciously (it was my favorite song … in 1975!). "But the real question here is, how do you two know 'Slow Ride'?"
They gave me a two-word answer: Guitar Hero.
You can learn a lot from other generations.
Photo by Benjamin Ranger on Unsplash.
https://www.persuasionmatters.com/wp-content/uploads/2019/12/benjamin-ranger-F2TdtctaxdQ-unsplash-1.jpg
404
1004
Mark Rodgers
https://www.persuasionmatters.com/wp-content/uploads/2017/11/Rodgers-Performance-Consulting-1.png
Mark Rodgers
2019-12-09 12:57:00
2019-12-09 12:57:02
OK, Boomer: Crossing the Generational Divide